During the time India fought for her independence, there were many leaders whose names were prominent enough. Among those names, one of the most important one was Subhash Chandra Bose as he was not just a fierce leader but also admired by many Indian and worldwide citizens.
Essay on Subhash Chandra Bose In English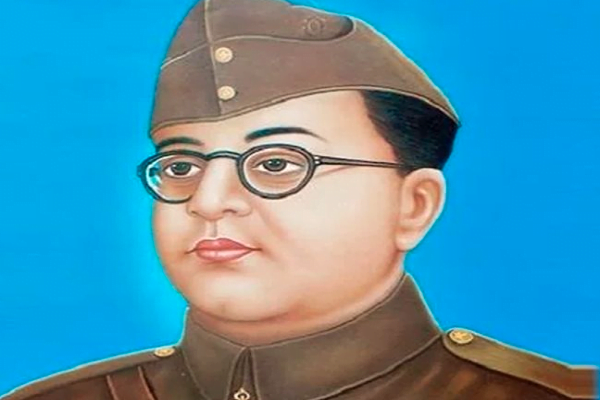 Subhash Chandra Bose was also known as Netaji and he was one among the most popular freedom fighters who fought hard to bring independence to India. He was extremely brave and he had enough trust and self-confidence in all his capabilities. Subhash Chandra Bose preached Indians to love their motherland from the core of their heart. He also had the power to set up his own army.
Subhash Chandra Bose was, in other words, a famous Indian nationalist and people still remember him for his love for his country.
He was the actual true Indian who was born on the 23rd of January in the year 1897. The most mentionable thing that we remember about him is his bravery with which he fought against British Raj.
Subhash Chandra Bose – On his birth and childhood
As already mentioned earlier, Subhash Chandra Bose was lovingly called Netaji as he was one of the main freedom fighters that India could ever have. Although Nehru Ji and Gandhi Ji have earned more credit for gaining the independence of India, the contribution of Subhash Chandra Bose was always undermined.
He was described by Mahatma Gandhi as the 'Patriot of Patriots' and he was both in 1897, on the 23rd of January in Cuttack, Orissa. He was the ninth child among the other fourteen children of Prabhavati Bose and Janakinath Bose. His father, Rai Bahadur Janakinath Bose was a lawyer by profession and was a public prosecutor in Cuttack. He was also a member of the Bengal Legislative Council.
Subhash Chandra Bose – Contributions to the Indian Freedom Movement
Subhash Chandra Bose began participating in the freedom movement with the Civil Disobedience Movement. This was how he became one of the most important parts of the Indian Independence Movement.
He later on became a member of the Indian National Congress or the INC. In the year 1939, Netaji also became the President of the party. Nevertheless, this was for a very short span of time due to the resignation from a post.
Freedom fighter, Subhash Chandra Bose was also put under house arrest because he opposed to the Britishers. In the year 1941, he left the country without letting anyone know about it.
Later on, it was reported that he went off to Europe to get help against the British. He also asked for assistance from the Germans and Russians so that they could together fight against the British oppressors.
Reports said that Subhash Chandra Bose eventually went to Japan in 1943. He went there as a response to the Japanese's acceptance of his agreement where he appealed for help.
It was there that he formed the Indian National Army and he also formed a provisional government. The main powers during the Second World War identified the necessity of this provisional government.
The INC or the Indian National Congress attacked the north-eastern parts of India and this attack was done under the constant supervision of Subhash Chandra Bose. The Indian National Army could successfully capture few portions of India.
However, it was sad enough to note that INA had to surrender due to the policies and weather of Japan. Netaji didn't wish to surrender and he made this clear. He retreated on a plane but there were reports later that the plane had crashed, most probably. This caused the death of this popular martyr on the 18th of August, 1945.
Education of Subhash Chandra Bose
He completed his schooling from the Ravenshaw Collegiate School and later on pursued his graduation from the Scottish Church College.
Indian National Congress and Netaji's activities
It goes without mentioning that Subhash Chandra Bose was a Swadeshi by heart and hence he had joined the Indian National Congress in 1939.
He left his position within a year in 1940 because of a verbal dispute that he got involved in with the leaders of the party. Unlike Gandhiji, Netaji believed that you can't earn freedom through non-violence as it also needs bloodshed at times.
INA and its formation
In the year 1940, Subhash Chandra Bose smartly escaped from his house (when he was put on house arrest by the British people) and went on to form the INA. Bose was touted to be the epitome of wisdom and he was a fearless and strong fighter.
He trotted across the world in order to meet the most influential and popular leaders from Italy, Germany and Japan. In 1941, he formed the Indian National Army. People still remember the words said by him, 'Give me blood, and I will give you freedom'.
Subhash Chandra Bose and his ideologies
Subhash Chandra Bose was among the few freedom fighters who believed in attaining complete independence of India. Unlike Netaji, the Congress Committee asked for independence in several phases through Dominion status. . Bose was also sworn in as the President of Indian National Congress for 2 terms.
However, many a times he had ideological differences with both the Congress leaders and Gandhiji and due to all these, he resigned from his post. Netaji Subhash Chandra Bose was totally against the non-violence approach started by Mahatma Gandhi. Bose always supported violent resistance, whenever needed.
Netaji Subhash Chandra Bose thought that the Second World War opened up new opportunities. He found this as a chance to capitalize on the weakness of the British. Subhash Chandra Bose led the INA to combat the British. He was a staunch believer and follower of Bhagwad Gita. He believed that the Gita was a premium source of inspiration that helped him fight the British.
Subhash Chandra Bose is certainly a memorable national hero who had immense love for his nation. He was a strong personality who showed us his patriotism by sacrificing his entire life for his Motherland.