Janmashtami is a festival celebrated by Hindus to celebrate the birthday of Sri Krishna. Janmashtami is observed in the month of August. Hindus specially perform this festival during Ashtami of Krishna Paksha.
Janmashtami / Shi Krishna Janmashtami Essay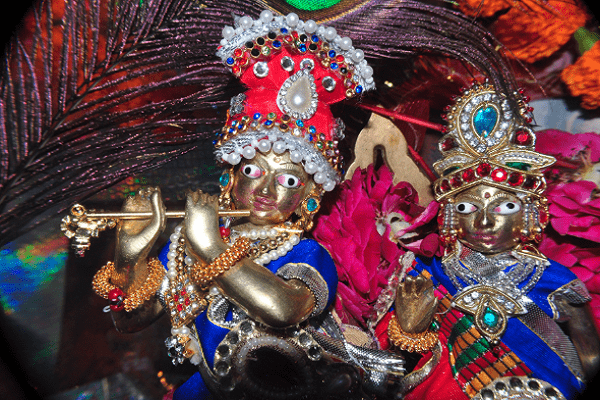 The Hindu scriptures believe Lord Krishna to be the most dominant incarnation of Lord Vishnu. Janmashtami happens to be one of the most celebrating festivals of the Hindus. Devotees carry on various rituals to honor Lord Krishna.
Lord Krishna had come on earth to protect and safeguard humanity from the evil souls like 'Kansa'. Janmashtami is said to be one of the most highly celebrated occasions in India. If you've been asked to write an essay on Janmashtami, here are few points you should consider.
Details on Lord Krishna
Lord Krishna is believed to be born on the eighth day of Dark Fortnight in Bhadon, a month from the Hindu calendar. He was born almost 5200 years back and he is believed to be one of the most dominant Gods.
Since he was extremely powerful, he was sent to Earth with a definite purpose. The other Gods wanted Lord Krishna to redeem humanity by eradicating evil from the Earth.
Due to his importance as a God, he also held a pivotal role in the epic Mahabharata. Lord Krishna had another purpose of preaching people about Bhakti and Karma.
Scriptures suggest that Lord Krishna was born inside a prison as he was under the supervision of Kansa. Lord Krishna's father, Vasudev surrendered him to one of his friend, Nand in an attempt to save the baby. He always knew that Kansa always had evil interests in mind.
As Lord Krishna was saved from the evil hands of Kansa, his upbringing was done by the Gokul family. After few years, Lord Krishna grew up to be a sturdy strong young man. Later on, he gathered enough power to kill the devil, Kansa.
When I was a younger, I loved watching the different TV shows on Sri Krishna. Since I always preferred these shows, I knew a lot on Lord Krishna and his life. Here are few things I came to know on Lord Krishna:
Sri Krishna was extremely fond of Makkhan (butter). He always tried to steal butter from his mother's kitchen. This earned him the name 'Natkhat Nand Lal'.
Sri Krishna's complexion was dark in color. He was always concerned about his dark-colored complexion.
Sri Krishna had a friend, Radha who was of huge importance to him.
Krishna always spent time with Radha. She was extremely fair and beautiful. While Lord Krishna was with Radha, he strongly felt inferior to her.
Dahi Handi Event on Janmashtami
Janmashtami is usually celebrated at mid-night as Lord Krishna was born during that time. Different people have different ways of celebrating this festival. As Lord Krishna loved eating Makkhan, people play a game which is like.
They tie a matki or an earthen pot. The person who judges the game ties the pot at several feet above the ground. Another person fills the pot with Makkhan or butter.
How will the people reach to the matki? They form a human pyramid to reach the matki and break it. The pyramid is a rather tall one so that they could reach the pot. Many people have to participate in this game.
There are opponent teams who keep the human pyramid from breaking the earthen pot. Both teams get equal chances. Each team is given a specific time to break the matki.
If the team is not able to perform the job within the given time, the other team automatically gets a chance. Several people gather to watch this sport of breaking the matki.
How is Janmashtami celebrated?
As a part of celebration, the temples of Lord Krishna are decorated. All the religious places that are dedicated to Lord Krishna see host of kirtans, bhajans and satsangs. Few other places host enactments of skits, dance-dramas where artists enact the life of Krishna.
Everything is done in accordance with the Bhagavata Purana. Devotional songs are sung in the midnight during the birth time of Lord Krishna. Devotees fast during night and this day is followed by a festival in the next day.
The main purpose of celebrating Janmashtami is to unite people and strengthen their principles. Dahi Handi is one more vital part of this festival. This is observed on the second day of Janmashtami.
It is an event where people narrate the activity of stealing butter. Later on, local guys gather in the form of human pyramid to break the handi that is tied at a certain height from the ground.
Sri Krishna temples to visit
Here is a list of the most popular Sri Krishna temples to visit in India.
ISKCON Temples.
Dwarkadish Temple, Dwaraka.
Banke Bihari Temple, Vrindavan.
Krishna Balaram Mandir, Vrindavan.
Guruvayur Temple, Kerala.
Sri Krishna Temple, Udupi.
Govind Dev Ji Temple, Jaipur.
Jagannath Temple, Puri, Odisha.
Rajagopalaswamy Temple, Tamil Nadu.
Sri Nathji Temple, Rajasthan.
Prem Mandir, Vrindavan.
Why is Janmashtami celebrated?
If you have read the epic, Mahabharata, you'll relate to several things written on Lord Krishna. When the Dharma Yuddha took place between Pandavas & Kauravas, Lord Krishna played the role of Arjuna.
He was counseling Arjuna on different aspects of life. Few such aspects were Dharma, Karma, Yogic Ideals, Theistic Devotion, knowledge and salvation.
Arjuna was already going through emotional turmoil as he had to kill his cousins and brothers. Lord Krishna said that whenever there will be too much of evil, he will reincarnate to save humankind.
Hence the main reason of celebrating Janmashtami is to bring people together and remind them of unity.
So, it can be concluded by saying that Janmashtami is one of the most celebrated festivals in India.
Hindus celebrate this festival with huge excitement and they distribute sweets and foods among their family members and friends. Whenever there is evil within us, we should remember the deeds of Lord Krishna.