Mahatma Gandhi is known as the Father of the Nation. He was a preacher of truth and was also a follower of non-violence. He was born in Gujarat in the year 1869 on the 2nd of October.
Mahatma Gandhi hailed from a well-off family and since his childhood, he was known to be a shy person. Nevertheless, he was also a regular and good student.
Mahatma Gandhi – Father of The Nation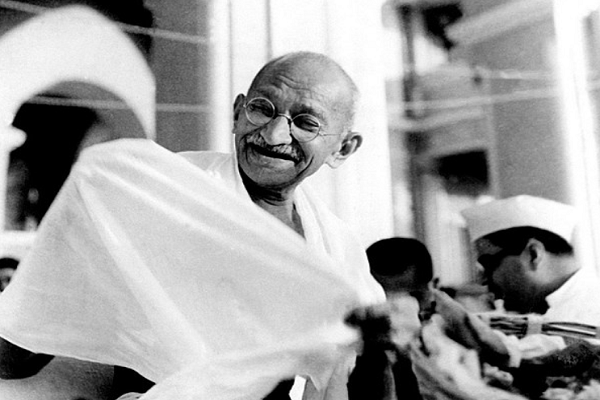 Later on he went to England to pursue law and became a barrister. After he returned to India, he practiced at Bombay High Court. Though he started practicing, he didn't feel inclined towards the legal profession. This was when he understood his patriotic feelings inside him and decided to join the Indian Independence struggle.
Mahatma Gandhi – A patriot
If not the greatest, he was still one of the greatest patriots India could ever have. He was a man of extremely pleasing personality and this earned him praises among every circle that he was a part of.
He demonstrated unparalleled efforts in the Indian Independence struggle. In fact, he played such a strong role that it was believed that without him, India would probably take longer to attain independence.
If you've been asked to write an essay on Mahatma Gandhi, you needn't fret as we're here to cover the details on Mahatma Gandhi's contributions and his legacy that he has left back. Read on for further information.
Mahatma Gandhi and his contributions
Mohandas Karamchand Gandhi, as his full name was, was a public figure with huge reputation. He played an instrumental and influencing role in bringing about several political and social reforms. He was the one who abolished all sorts of social evils.
Thanks to his efforts, there were many oppressed people who felt relieved from such illegal activities. Eventually, Gandhiji became an international figure. Amongst several media outlets, both nationally and internationally, he became the talk-of-the-town.
As far as environment sustainability was concerned, Mahatma Gandhi also made many noteworthy contributions. He mentioned that each person should be allowed to consume as per his requirements. However, at the same time, he also raised a question, 'What is the extent that a man should consume?'
The sustainability model put forth by Gandhiji held prime relevance with regards to the current state of affairs in India. Presently, India is a country of extremely high population.
Due to the several campaigns of Mahatma Gandhi against industrial development, there was promotion of small scale irrigation and renewable energy.
Probably the most noteworthy contribution of Mahatma Gandhi was his philosophy of non-violence. He led the Ahimsa movement, which meant non-violence.
He aimed to attain independence without any kind of violence. Post the Chauri-Chaura incident; he even quit the Non-Cooperation Movement. He did this due to the violence that he saw in this incident. Though there were many who were not happy about his decision but Gandiji was firm about following Ahimsa.
One more contribution of Gandhiji is secularism. He believed that there should be no religious monopoly on truth. He was the one who encouraged a cordial relation between different religions, whether Hinduism, Islam, Christianity or Jainism.
Champions of Human Rights (1869-1948)
Mahatma Gandhi was recognized as one of the greatest spiritual and political leaders of the twentieth century. This was the reason he was given the honor of the Father of the Nation.
He practiced and spearheaded the Satyagraha principle, which was resistance to autocracy through non-violence and civil disobedience.
He also led nationwide campaigns that had the aim of expanding and securing women's rights, easing poverty, abolishing the injustices of caste system and building ethnic and religious harmony. While he pioneered these aforementioned campaigns, he applied principles of civil disobedience, non-violence and all this acted as a catalyst in facilitating the Indian Independence.
Many a times, he was imprisoned for his deeds but he was fearless. Finally, in 1947, his dream came true and India got independence from Britain.
Hence, it was always because of his stature that he was referred to as Mahatma which means 'great soul'. In fact, the civil rights leaders, from Martin Luther King to Nelson Mandela have all given him his due credit for being the main source of inspiration in their fight for equality.
Mahatma Gandhi and his legacy
The sturdy and resilient personality of Mahatma Gandhi has influenced several leaders from all over the globe. Names of few such leaders who were all praises for him are James Beve, Martin Luther King and James Lawson.
Gandhiji also had a direct influence on Nelson Mandela as he helped him gain courage to fight his freedom movement. Lanza del Vasto flew to India in order to live with the Father of the Nation.
We can't forget the fact that the United Nations (UN) honored Mahatma Gandhi and made 2nd October, his birthday, the International Day of Nonviolence. Moreover, there were other countries who also observed 30th of January as the School Day of Nonviolence and Peace.
Speaking about the number of awards that were given to Mahatma Gandhi, they are too many to write down here. There are probably few countries that didn't give any award to this great soul of India.
So, it can be said that Mahatma Gandhi was a man of strong convictions and he also had a noble soul. He ate simple vegetarian food and wore khadi clothes.
He practiced whatever he preached and was a man of words and action. Gandhiji was a God-fearing personality and that made him the cynosure of all eyes.
He didn't prefer communalism in any form. He was a friend to all and enemy to none. People universally liked his personality. This was probably the main reason why he earned the title 'Mahatma'.
Mahatma Gandhi's tragic death occurred on the 30th of January 1948 where he was assassinated by a Hindu fanatic. The entire country felt a vacuum after his death.
His birthday, 2nd October, started being commemorated as Gandhi Jayanti and came to be marked as a National Holiday. The whole world still loves this twentieth century veteran.