Sardar Vallabhbhai Patel is one of the most prominent and revered political figures of India. However, the people of India loved him and gave him the name of Iron Man of India. Not only was he a legendary politician who had had his fair share of achievements but he was also one of the freedom fighters of India.
Short Essay on 'Sardar Vallabhbhai Patel'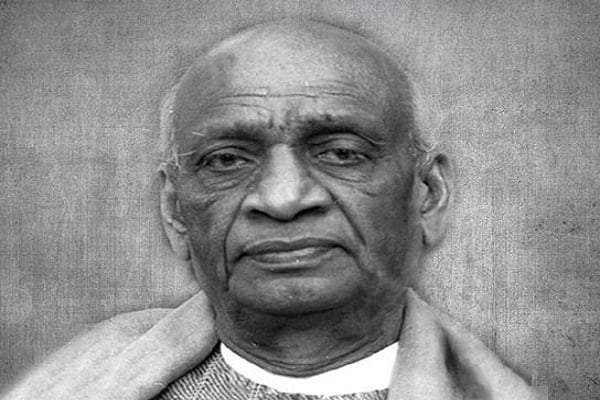 He was one of the mightiest and most dynamic warriors of the country. Thanks to his popular political figure that he could contribute in more than one ways to the Indian Freedom Movement.
He was an intellectual leader with prominent leadership skills. He is one among the several leaders who fought hard to bring independence to India. Due to his dominant personality, he earned the name Iron Man of India.
Sardar Vallabhbhai Patel – Education and his early life
Sardar Vallabbhai Patel was born on the 31st of October in the year 1875 in the Leuva Patel Patidar community in Gujarat. His full name is Vallabbhai Jhaverbhai Patel and as people loved him a lot, he was called Sardar Patel.
His father was Zaverbhai Patel and he was an army in the camp of the Queen of Jhansi and his mother, Ladbai was keen to be spiritual. Patel was also a brave-hearted kid since his childhood days.
There was a time when he had a painful boil which had to be immediately treated. Without any form of hesitation, he used a heated iron rod and didn't even say a word while it was being treated.
At the young age of 22, when all worked hard to complete their higher studies and graduation, he just completed his tenth exam. Hence, people and his neighbors thought that he would do nothing better than ordinary jobs.
As he completed his tenth exams, he continued with his studies and later on became a law graduate. He traveled to England in order to become a barrister. When he returned to India, he kept on practicing law in Gujarat, Ahmedabad.
Sardar Vallabhbhai Patel – The Iron Man of India
The struggles and life of Sardar Vallabhbhai Patel has been an inspiring journey for all. He was subject to several impediments in life but he fought all odds to accomplish his objectives without any support from family.
Sardar Patel also assisted his own brother to obtain all his goals and at the same time took care of his family members. He always encouraged and motivated his children in different phases of life.
Apart from the above mentioned qualities, he also played a pivotal role in gathering lots of people together who could fight for independence.
He had such a sturdy personality that he could unite multiple people of his country against independence, which is a common cause for all. This is the main reason why people refer to him as the Iron Man of India.
He was a main participant of the freedom struggle and he inspired several others to join this independence movement.
Due to the fact that he had great leadership qualities, he could lead many movements, all of which attained success. Eventually, he earned the title Sardar which meant leader or chief.
Sardar Vallabhbhai Patel and the Indian Independence movement
When he met Mahatma Gandhi in October, 1917, he got motivated and thereafter decided to join the Indian Independence movement. Thereafter, he joined the Indian National Congress and initially he started off with Satyagraha in Gujarat.
This movement was started in order to fight against the atrocities of the British. Later on, he also volunteered and participated in the Quit India Movement in 1942 under the guidance of Mahatma Gandhi.
Sardar Vallabhbhai Patel also contributed in uniting the people of India during the freedom movements of India. He also had been imprisoned during this time for several times but that couldn't bow him down to the British Raj.
He had a strong sense of patriotism and an urge to throw out the British from the Indian space. This had become the only objective of his life.
Sardar Vallabhbhai Patel – An inspiration to all
The life of Sardar Patel has been a motivation and inspiration for all. What are the main reasons behind this?
He accomplished all his professional objectives on his own without seeking support from others.
Sardar Patel played a decisive role in gathering and uniting Indian citizens so that they could fight against the British Raj together.
He was a believer of Unity in Diversity and he was always seen united for the cause of Indian Independence.
Due to his leadership qualities, he could speak to the masses and bring them together for a common cause. All this earned him the name of Iron Man of India.
Post Independence life of Sardar Vallabhbhai Patel
Post independence, Sardar Vallabhbhai Patel played a pivotal part in Integration of India. He convinced the rulers of the states to be united and become a part of One India – One Nation.
He traveled to different untouched areas of India and tried uniting people. Post independence, he was later on sworn in as the first Home Minister of India and also the Commander in Chief of Indian Armed Forces.
After he served the term of Home Minister, he also became the first deputy Prime Minister of India. He was one among the 3 leaders who led the country from 1947 to 1950.
Sardar Patel began to feel ill since 1950 summer and this situation aggravated very quickly. He died on the 15th of December, 1950 as he had a massive heart attack at his house in Bombay, Maharashtra.
Conclusion
It can be therefore said that the relentless efforts of Sardar Patel had helped a lot in accomplishing his freedom-fighting goals. His contribution to the Freedom struggle of India has been incomparable and remarkable.
He was a huge source of enthusiasm for the youth of India. Sardar Patel was also termed as the ultimate self-made man in the true sense of the term. He was rewarded the Bharat Ratna Award in 1991.