There is no doubt when we say that the 19th century India has given us a galaxy of philosophers, freedom fighters and great men. All of them have embellished our national life through their personality and life.
One among them was Swami Vivekananda. The original name of Swami Vivekananda was Narendranath Dutta and he born to an enlightened family of North Calcutta in 1863.
Essay On Swami Vivekananda In English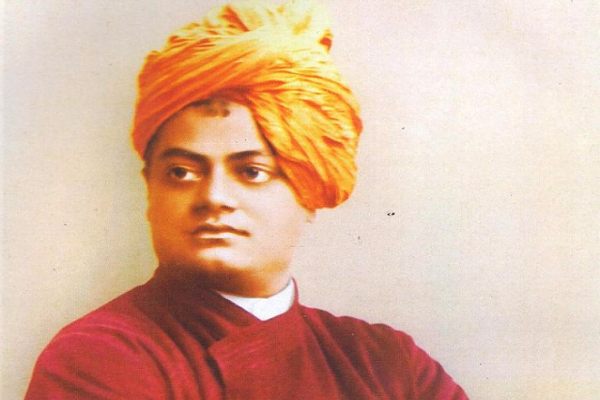 Irrespective of the standard you're in, you might be asked to write an essay on the great man – Swami Vivekananda. Are you wondering about what to cover in your essay? If answered yes, here are few points to cover.
Swami Vivekananda – His life
Swami Vivekananda was born as Narendranath Dutta on 12th of January, 1863 in the divine place of Kolkata. He was believed to be an Indian saint. He believed in simple living, high thinking. Swamiji was a philosopher, a pious leader and he was also a fervent personality with great principles.
Few of his eminent and popular works consist of 'Raj Yoga', 'Modern Vedanta'. He was one of the main disciples of Ramkrishna Paramhansa and he initiated the Ramkrishna Mission and Ramkrishna Math.
Later on, Swamiji spent his life believing in the values of Ramkrishna Paramhansa. This was his life was embedded in the Indian culture.
Swami Vivekananda's childhood
Swami Vivekananda was the son of Bhuvneshwari Devi and Shri Vishwanath and in his early days, he was named Narendranath Dutta. As a child, he had undisputed expertise and intellectual skills, who used to grab all the teachings of his school faster than anyone else.
His Gurus had identified his excellence at a tender age and hence they gave him the name 'Shrutidhar'. He was an immensely talented person with multiple skills like wrestling, swimming and many more.
Swamiji was motivated by the teachings of Mahabharata and Ramayana. He had immense respect for Hindu religion and made Pavan Putra Hanuman his life's idol.
He was mystical by nature and a lover of heroism. Although he was born and brought up in a spiritual family, yet he had an argumentative nature since his birth. He was rational and also looked for judgment in everything that he believed. He even had questioned the existence of God.
In order to know more on the Almighty, he met several saints and questioned them whether or not they had seen God. His spiritual queries were all left unanswered until he met Ramkrishna Paramhansa.
Vivekananda's meeting with Ramkrishna Paramhansa
When Ramkrishna Paramhansa visited the residence of Swami Vivekananda in Kolkata, they first met. Ramkrishna Paramhansa instantly became conscious about the supernatural powers of Swamiji and hence he called him to Dakhineshwar.
He had in intuition that the birth of Swamiji was more than a blessing to mankind and he had come to uplift and save the universe.
As Swamiji's spiritual quest was fulfilled by Ramkrishna Paramhansa, didn't give a second thought before calling him his 'Guru'.
His Guru helped him move from darkness to the path of light and Swamiji had deep regards and gratitude for him. He made Swamiji travel all the four directions of the world in order to know more on the teachings of Ramkrishna Paramhansa.
Swamiji became a favorite among the audiences of Chicago through his speech where he addressed the audience as 'Sisters and Brothers of America'. He also mentioned that he was proud to follow a religion that taught him universal acceptance as well as tolerance.
All religions are true according to him. Since then, he set forth the worth of Indian religion and demonstrated values of oneness, acceptance and harmony.
Netaji Subhash Chandra Bose said that it was Swamiji who harmonized the East and the West and past and the present. This is why he is a Great Leader of India. Swami Vivekananda also played a pivotal role in bringing cultural remoteness to an end from the rest of the world.
In short, Swamiji was an inspiration and a source of motivation for the Indian Youth. With the help of his teachings he wished to fill the brains of the young generation and instil them with character formation, self-realization, service and helped them identify their inner strengths. He also taught the youth how to maintain an optimistic outlook towards life.
The Ramkrishna Mission and Math
The Ramkrishna Math and Ramkrishna Mission had separate objectives and aims. The priests of the Math dedicated their entire lives to the teachings of Ramkrishna Paramhansa. On the other hand, the main functions of the Mission were restrained to offering education and humanitarian services.
Sri Ramkrishna Paramhansa was a prophet and a true devout. He was a priest who believed in truth. He was actually an illiterate with no proper education.
But like Jesus Christ and Socrates, he preached the truth. Ramkrishna Paramhansa got to know of Vedanta from his guru Totapuri who also had a sea of knowledge on this.
Other works of Swami Vivekananda
One of his famous quotations is 'Arise, awake and stop not until the goal is reached'. He also said that anything that makes a child intellectually, physically and spiritually weak should be denied as poison. It is only education that can lead to proper formation of character.
The way he formed Ramkrishna Mission and Ramkrishna Math was a sign of Guru Bhakti, his austerity, sacrifice and service to the downtrodden. He also founded Belur Math.
He was the man who spread the divine message and the aims of the scriptures. Swami Vivekananda was one of the greatest patriot monks of Mother Earth and he will always be remembered by the youth of India.
Swamiji carried the message of the rich culture of India and Hinduism. He spread the message of selfless love, non-duality and service towards the nation. His personality along with his virtues illuminated the young.
This great monk took his last breath on the 4th of July, 1902 at Belur Math. Thanks to his ideologies, teachings and principles that we commemorate his birthday 12th of January as 'Avtaran Divas' or the National Youth Day.