If you have to make a list of the humanitarians of the world, you will remember many names but Mother Teresa has been someone who has always stood out of the crowd.
She was a lady of great strength who had spent her entire life serving the needy and the poor. Mother Teresa was not an Indian until she traveled to India to help the downtrodden and needy.
Short Essay On Mother Teresa 2020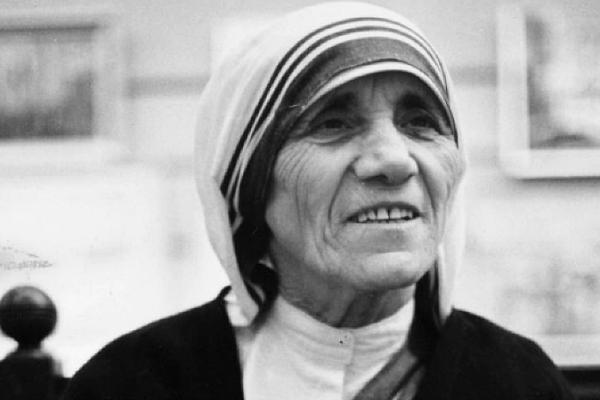 Regardless of the class you study in, you can always be given the topic of Mother Teresa to write on. If you've been wondering about what to cover in the essay on Mother Teresa, we're here to help you out. Take into account the points mentioned below while shaping the essay.
Mother Teresa – The Saint of the Twentieth Century
It would be totally appropriate to call Mother Teresa the Saint of the twentieth century. She was a lady born with poise and grace and with her image in a white sari draping over her head, she was the epitome of God's love.
Presently we live in turbulent times where humans are racing for materialism. Due to this constant race, their conscientiousness is getting wiped off. This is why the apostle of mercy and love became a lantern of hope for millions all over the world.
She was a selfless soul and her deeds had inspired many other sisters from various parts of the world. She worked hard for the poor, the homeless, the handicapped, the aged, the unwanted and this made her nothing less than manifestation of God. By the time you complete this essay, you'll get to know a lot on this divine soul.
Mother Teresa – On her birth
Mother Teresa was on the 26th of August, 1910 and her original name was Agnes Gonxha Bojaxhiu at Skopje. She belonged to a family of the Albanian community.
Although majority of the families of this community were Muslims, Mother Teresa's family was Catholic. Her father was a businessman who traveled to different places and his name was Kole. Her mother, Drana was a housewife.
Kole and Drana had three children among which Agnes was the youngest one. She had an unfortunate life as she lost her father at the age of nine.
Agnes' mother had to take care of the entire family and she began to earn her living by doing embroidery stitches and sewing wedding dresses. Despite belonging to a family of constant hardships, theirs was a religious family.
The start of her journey
As she was born to a Catholic family, she was automatically a believer of humanity and God. She had spent maximum part of her life in the church but she never ever imagined herself to become a nun.
When she went to Calcutta (now Kolkata), after she was done with her pending tasks in Dublin, this brought about a major overhaul in her life. For a long period of 15 years, she spent her life teaching children.
Apart from teaching children, she also struggled to teach the kids of poor households who couldn't afford educational costs. It was then that she started off with her journey of humanity.
She introduced an open-air school where she invited all the poor children for learning and educating themselves. The best part was that she worked free without any funds.
Mother Teresa was just 38 when she took vows of purity, poverty and obedience. She gave up the Habit of Sisters of Loreto, she started wearing a cheap white cotton saree along with a blue border.
She visited Patna to attain the degree of a nurse as she understood the vitality of training herself to be able to assist the poor who lived in unhealthy and dirty places. Once she completed this training, she got back to Kolkata to start off her life's vocation.
In Kolkata, she became a very common and popular figure in the streets and slums of Kolkata. The way she spoke fluent Bengali, her white saree and her relentless efforts to boost literacy among the slum soon made her a captivating figure.
She woke up early in the morning and worked with strength and dedication. She always made sure she started her day with sincere prayer.
Mother Teresa's missionary
As she kept on with her continuous work, she started growing her community eventually. Very soon, Mother Teresa started being serious about beginning a congregation. This idea of hers was also approved on the 7th of October, 1950. Since then the Society of the Missionaries of Charity was introduced.
This was the feast day of Holy Rosary. After spending 5 years, this congregation became popular as increasingly large numbers of sisters started joining in. They all devoted their lives to helping the poorest of the poor.
Due to the increasingly large numbers of Missionaries of Charity at Kolkata, they required a residence. She found a home at 54, A, Lower Circular Road, Kolkata. With the growth of the society, the works of Mother Teresa kept on increasing. She also received a Nobel Prize for Peace in 1979.
On receiving the Nobel Prize in 1979, she said that she chose poverty of our people. At the same time, she was also grateful to receive the Nobel that was dedicated to the homeless, the naked, the hungry, the blind, the crippled and all those who were abandoned by everyone.
Mother Teresa was an angel of hope for everyone. But we can't deny that death will touch us all. This gem of a person also died after she served the poor and needy of Kolkata.
When she died, the entire nation was in pain for her memory. As she died, the needy, the homeless and the poor again turned into orphans.
Conclusion
Since the beginning, it was a daunting and intimidating task for Mother Teresa to handle the poor and needy children. But she managed all hardships in a very delicate manner.
She started off by teaching kids with the help of a stick by writing on the ground. However, later she successfully arranged all the things that were required for teaching in a systematic manner.