Apart from Kalidasa, if there's any other literary genius that India has produced, then the only name that comes to your mind is Rabindranath Tagore.
He was a famous personality who was recognized and revered all over the globe and was given the name 'Gurudev'. Rabindranath Tagore was one of the greatest novelists and poets that we could have ever known of.
Essay for School Students On Rabindranath Tagore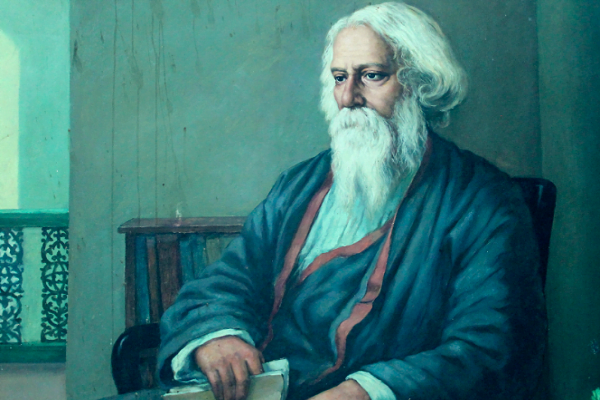 His experience, wisdom and artistry were incomparable. The way he understood human nature was always reflected in his short stories, poems and other writings. He had the power of weaving magic into whatever he wrote.
Have you been asked to write an essay on this noble poet of India? If answered yes, you needn't fret as we will tell you about the points to cover while writing this essay.
Rabindranath Tagore – The Great Indian Poet
Not only was Rabindranath Tagore an eminent poet but he was also a song composer, novelist, a scholar and a playwright who was born on the 7th of May, 1861 in Calcutta.
The date of his birth is commemorated as Rabindranath Tagore Jayanthi. He was born in an orthodox, rich Brahmin family.
The names of his parents were Maharshi Debendranath Tagore and Sarada Devi. He sadly lost his mother when he was only fourteen years old. Though his actual name was Rabindranath Tagore, he was more commonly known as Gurudev.
Rabindranath Tagore's childhood days and early life
Tagore was not a single child as he had his own siblings but he was the youngest of them all. His father was a traveler who often traveled to unknown places and didn't return for several months.
Hence, he was raised by servants and maids of his home. Since his childhood, he inculcated an interest in writing poetries and later on he excelled in this field.
Considering the array of skills that he possessed, it can be easily said that he was a multi-talented personality. He was a story-writer, a patriot, a humanist, a painter, an educationalist, a philosopher, a novelist and a poet.
During his childhood, he had this habit of never attending schools as he didn't like going to schools. This is why he studied under the strict supervision of his tuition teachers who visited his home to give him lessons.
Later on, he flew off to England to pursue his higher studies. Both Rabindranath Tagore and his entire family showed keen interest in participating in Bengal renaissance.
He began publishing his works of poetry at the age of sixteen and he then used the pseudonym 'Bhanushingho' which meant Sun Lion to publish his poems.
Kalidasa, the great classical poet had set a strong influence on Tagore and it was then that he started venturing into the world of classical poems. Tagore's sister, Swarnakumari was also a famous novelist.
In the year 1873, Tagore went for a trip with his father which spanned for several months. In that trip, he gained knowledge on different subjects. During his stay in Punjab, he got to learn about Sikhism. Post his stay in Amritsar, he wrote around 6-7 poems and few articles on this particular religion.
The educational background of Rabindranath Tagore
The formal education of Tagore was from East Sussex, Brighton in England. He went to England in the year 1878 to pursue his career in law studies.
However, way before completing his studies, he returned to India as he wanted to become a successful poet. Writing poetry was his passion and hence he couldn't concentrate on legal studies.
To increase his knowledge, he started reading several works of Shakespeare as he seemed to have developed a keen interest in researching on Scottish, English and Irish music and literature. After he came back to India, he got married to his long-time lady love Mrinalini Devi.
The idea of creating Shantiniketan
It was Debendranath Tagore who had first infused the idea of Shantiniketan into the mind of Tagore. He was the man who idealised the concept of 'Ashram' in the year 1863. Later on Tagore was determined that he would fulfill the wish of his father and hence he founded an open-air school.
This was an open prayer hall which was called 'Mandir'. Rabindranath Tagore gave another name to this place, 'Patha Bhavana' which started with just 5 students.
The method of teaching that they used was of Guru-Shishya and this trend of teaching was thought to be of extreme benefit in the scenario of the modern educational system.
Meanwhile while he got busy in establishing and growing Shantiniketan, he also became a famous poet. At the same time, he was also the first Asian who received Nobel Laureate.
Presently, Shantiniketan is well-known in West Bengal for its Viswabharati University which is one of the best universities of India.
Literary Works of Excellence
Tagore had always kept up with his efforts to introduce the Indian culture to the West and to bring the Western culture to India.
He tried playing the role of a bridge to fill in the gap between both the cultures. When he started off with his journey to the nation of Europe, he translated his most famous work till now, Geetanjali.
Rabindranath Tagore earned accolades for the exceptionally great work of literature that he did in Geetanjali. His mercurial and spiritual poems have been etched in the minds of his followers and fans forever.
In the year 1913, he became the first ever Indian to be awarded with the Nobel Prize for Literature. This was said to be his greatest contributions to Indian literature.
The national anthems of both Bangladesh and India are written by him and both of the songs were taken from his famous works of Rabindrasangeet.
Till the present time, the creative works of Tagore, be it stories or poems, are indisputable. He was a believer of the power of brotherhood, peace and love.
The major contributions of Tagore to Indian English Literature were Nauvedya, Chitra, Kalpana, Sonar Tari and many more. The most popular novels written by him are Gora, Malini, Raja and Rani, Binodhini, Nauka Dubi, Chitrangada among several others.