One of the oldest forms of mass communication is newspaper which is a part of the print media. The publication of newspapers are based on high frequency, they are printed daily, weekly or fortnightly.
You'll also come across several newspaper bulletins that have quarterly or monthly publication. Few newspapers also offer several editions in a single day.
Short Essay On Newspaper Reading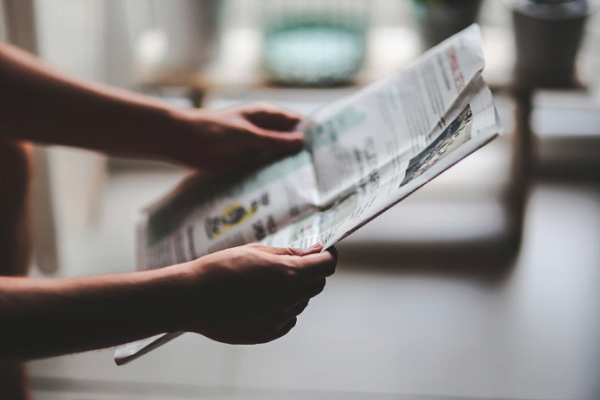 A newspaper is one of the most important parts of print media and it comprises of news articles from all over the world. It covers all sorts of topics like sports, politics, business, entertainment, culture and education and many more.
The newspaper also has editorial columns, opinion, political cartoons, weather forecasts, daily horoscopes, crossword puzzles, public notices and many other things.
Newspaper and how it originated
The circulation of newspapers began way back in the 17th century but different countries have different times of starting off with their newspaper publication. The first ever real newspaper was printed in England in 1665.
The first newspaper in America was called 'Publick Occurrences Both Foreign and Domestick" and this was printed in the year 1690. For Canada, it started in 1752 and for Britain, it started in 1702. The first newspaper called Halifax Gazette started its publication in 1752.
However, as we entered the 19th century, eventually newspapers started gaining popularity and since then they also began to be more affordable as the stamp duty was abolished.
However, later on in the 20th century, digital technology started replacing the conventional method of printing that was done by labor.
A powerful tool to circulate information
Newspapers are undoubtedly a powerful means of broadcasting to people. In fact, this is one of the best means of communication between the world and people. It can't be denied that newspapers are one of the best medium for transferring knowledge.
Every morning, it is through a newspaper that we can get our daily dose of news. This is a rather reliable source that gives information only after investigating properly. Hence, you can't expect fake news from a newspaper.
Even in the remotest of the areas of the country, newspapers are circulated and hence all segments of people will get access to them at a nominal cost. The best thing about newspapers is that they are published in different regional languages and this makes it easier for citizens from different regions to go through news in their local language.
Hence, there is no doubt about the fact that newspapers have more than one advantage as they let people remain informed on all sorts of worldly issues.
Newspaper and its importance
Newspaper is one of the most powerful medium for spreading current information among people. As we are responsible citizens of our country, we need to know everything that is happening around us so that we can not only stay informed but also do our bit to save the world.
Information is probably the most important thing that we should keep at our fingertips. Only when we are aware of whatever that is happening around us can we plan and decide things in a better manner.
All sorts of official and government announcements are done through a newspaper. Not only that, even the information of private and government sector employment like whether or not there are job vacancies are all published in a newspaper. All sorts of competitive exams and the dates on which they'll be held are all published in the newspaper.
Business related information, weather forecasts, international, economic and entertainment related information are all published in the newspaper.
If you have to boost your knowledge on current affairs, a thorough reading of the newspaper is probably the best way to go. This is why in most households, every morning begins with reading a newspaper.
Significance of reading a newspaper
There's no doubt about the fact that the newspaper has always had a positive influence of the society. Through reading newspapers, people can get aware of current affairs and remain curious about what's going on in the world.
The newspaper is certainly the finest bridge between the people and the government as they offer you with every single detail that you should know about the world.
Whenever there are some kind of new rules and regulations in the world, it is through newspapers that we can get to know about them. Students gain lot of information from newspapers and this helps them increase their marks in subjects like General Knowledge and Current Affairs.
They can always stay clear with government policies, technological advancements, research studies and much more.
Apart from that, newspapers also include articles that handle cultural issues, social issues, arts and much more. The public opinion of people is conveyed to the government authorities on vital issues.
This will assist people in reviewing the ministers as well as the government. People get to know about their best employment opportunities from newspapers.
Newspapers against other channels of communication
This is the age of digitization when there is a sea of data available on the internet. Majority of the newspaper publishing houses and news channel cope with the trend of digitization and they have all introduced a mobile application for the convenience of the users. Information is spread through websites and social media.
There are several newspapers that also devote a special section for the school students and the young generation so that they could express their talent.
They can publish articles like essay, quiz, short story and paintings to make the newspaper sections more attractive for schools. This way, more and more students start inculcating the noble habit of reading newspapers.
Therefore, it can never be denied that newspapers are one of the greatest sources of inspiration. Students and youngsters should start inculcating the habit of reading newspapers in order to enhance their vocabulary.
They also get to know how to write a news article or a press release. As newspapers have earned a great reputation among people, they are a permanent source of validated information.