As a human being, Narendra Modi is known to be a good person and he has always been a source of inspiration for the Indians. He has gained recognition due to his powerful beliefs and ideologies.
Narendra Modi Essay for Kids In English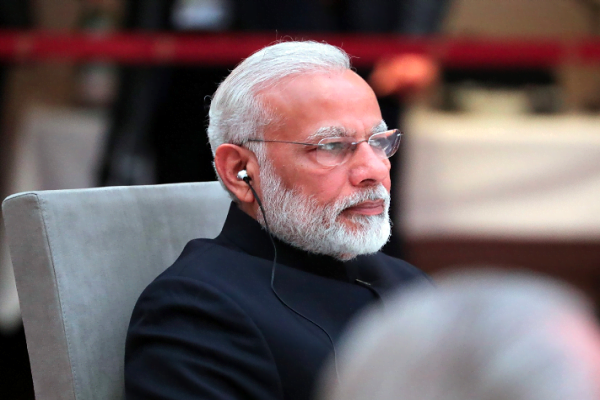 Narendra Modi is a man who not just obtained popularity in India but also in various other nations like Russia and USA. Both of them being the most powerful countries of the world, Narendra Modi is a celebrated personality at various parts of world.
Regardless of the standard you're studying in, you might be asked to write down an essay on our Prime Minister, Mr. Narendra Modi. You needn't fret about that as we're here to help you with information on his life, his educational background and also his political career. You can write your essay based on all the points mentioned below.
Narendra Modi – The Prime Minister of India
The optimistic attitude and the challenging nature of Narendra Modi have led to set a huge impact on the members of the nation. He has a definite way of turning the entire audience towards him. The way he expresses his ideologies in front of the nation has made him one of the worthiest politicians in India.
Narendra Modi had too many fans in India along with the other countries of the world. He is well-known for traveling in most of the foreign countries of the world so that he could collect everything that is good and profitable from those nations.
He has travelled the countries to nurture friendly relations with the lawmakers of those countries. This act of his has helped him develop positive financial ties with other nations.
Narendra Modi – His life story
Narendra Modi was born in the year 1950, on the 17th of September. He was born in a place called Vadnagar of Mehsana district, State of Bombay (present day Gujarat). The full name of Narendra Modi is Narendra Damodardas Modi.
The father's name of Narendra Modi was Mool Chand Modi and his mother's name is Hiraben. He always hailed from a lower middle class background. At the age of only 13, he was engaged with Jasoda Ben Chaman Lal and he later on got married to the same at the age of 17.
Eventually, Modi joined Rashtriya Swayamsewak Sangh and he worked with this organization for many years. While he was serving in this organization called RSS, he had to play different roles.
Since his early age, he started working extremely hard in order to make money. He also demonstrated himself as a true Hindu religion follower and this is why he has been a role model for several Hindus.
In the year 1987, Narendra Modi joined Bharatiya Janta Party (BJP) and from this time, he kickstarted his political career. Within a year, he was appointed as a general secretary in Gujarat.
He took BJP towards the zenith of success through his willpower, determination and hard work. Gradually, this party earned huge recognition.
The start of his political career as the Prime Minister of India
In the General Elections of 2014, Narendra Modi won by a large majority. As he won the elections, he became the 15th Prime Minister of India. After a very long time, Modi grabbed the entire majority of votes and became the Prime Minister.
He was sworn in as the Prime Minister of India on the 26th of May, 2014. Since that day, there were numerous amendments that took place to the constitution of India. Modi brought in the dream of digital India as he is a man with vision.
In order to realize his dream of digital India, he began various types of campaigns to promote it. Not only that, he was looked forward to creating a corruption-free India and this was one of the major steps that he took. He was the one who initiated demonetization for India.
Under the demonetization strategy, the present currency was considered as invalid. People were asked to exchange the old currency in order to get the new ones.
That could only be done by depositing the money to their respective bank accounts. Demonetization is still considered as one of the major events in the pages of Indian history.
He has also led several other safety campaigns for women like Anti-Romeo Squad that were in action. The squad members would check whether or not there are eve-teasers teasing women on roads.
Narendra Modi also made a noteworthy amendment in the country where a pedophile rapist was decided to be punished by hanging him till death.
So, all the above mentioned steps were all taken by Narendra Modi, the 15th Prime Minister of India and all these made him an outstanding leader of India.
Narendra Modi – His educational qualification
Narendra Modi was an average student in school but he was immensely interested in debating and also had keen knack in theatre. He had completed his higher education in 1967 from Vadnagar and obtained a master's degree in political science from the Gujarat University.
And He had gained some tough lessons in life as he didn't come from a wealthy background. He had to maintain a balance between his non-academic and academic life.
Braving all odds, he completed his studies. Later on, his struggle began when he had to run a tea stall along with his brother near the railway station at Ahmadabad.
Post graduation from school, he abandoned his home as he had denied an arranged marriage. He visited India for two years and paid his visit to several religious destinations. After he returned to Gujarat, he became a full-time worker of RSS.
It has been proved time and again by Narendra Modi that if the administration of the country is moving on the right track, the country will definitely see good days.
He urged the citizens of India to allow the girl child to grow, push her to schools so that they could also play their role in building a better India. We wish that this powerful leadership of Narendra Modi brings positive days for our country.