Durga Puja is a festival of the Hindus and is also called Durgotsav as the biggest festival ('Utsav' in Bengali) for worshipping the powers of Goddess Durga. Durga Puja celebrates the triumph of good over evil where 'good' is depicted by Ma Durga and 'evil' by buffalo evil Mahishasura.
Short Essay On Durga Puja For Kids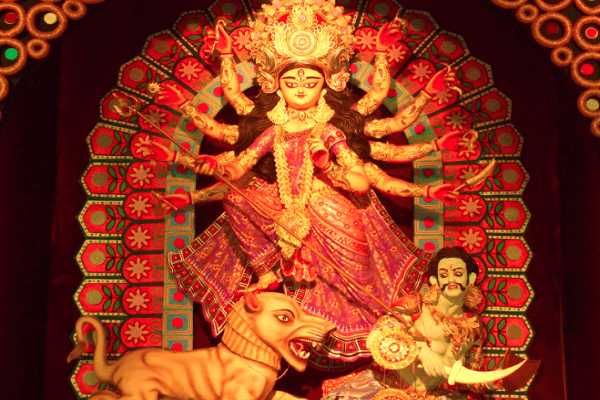 This festival also shows people how they should celebrate the ever-evolving powers of Women all over the world. This festival of the Hindus occurs in the Ashwin month of the Hindu calendar.
It is celebrated in several states like West Bengal, Odhisha, Assam, Manipur, Tripura and Jharkhand; mainly in the east-Indian states.
Significance of Durga Puja 
One of the biggest and most popular festivals of India is Durga Puja. Apart from being just a festival to rejoice over for the Hindus, this is also a time when the family reunites and is a ceremony of customs and values.
According to the rules of this festival, people observe fast for ten days and the last four days of Durga Puja are known as Saptami, Ashtami, Navami and Vijaya Dashami.
These days are celebrated with great pomp, valour and sparkle in all parts of Bengal. Not only is Durga Puja celebrated in Bengal but it is also observed overseas wherever there are Bengalis.
How this puja is celebrated depends totally on the place in which it is being celebrated, the beliefs of the people of that place and their customs.
Rituals can differ to such an extent that the festival is celebrated for 5 days in some places, for 7 days in some other places and some places even celebrate for the entire 10 days.
Nevertheless, the joviality actually starts on the sixth day which is called Shashti and ends on the tenth day that is the Vijaya Dashami.
Durga Puja – A little bit on its background
Goddess Durga is believed to be the daughter of Menka and Himalaya. As she married Lord Shiva, she became Sati. Since the era when Lord Shiva used to worship Ma Durga to receive a grant of powers to be able to kill Ravana, Durga Puja started.
In West Bengal, there are several Bengali communities that celebrate this puja by building a temporary pandal of different themes within close distances.
Each of these pandals is heavily decorated and has an idol of Ma Durga. People not only go out to visit these idols but there are many who even celebrate Durga Puja at home by making all sorts of arrangements for the Goddess. On Vijaya Dashami, the idol of the Goddess is immersed in the holy river Ganga.
The Hindus celebrate Durga Puja in order to celebrate the victory of good over bad and to seek light in the dark world. There are other stories behind this festival too where it was believed that Goddess Durga defeated the demon king, Mahishasura.
She was ordered by the three Lords, Brahma, Vishnu, Shiva to abolish the demon and protect the world from all vices and cruelty. This battle between Ma Durga and Mahishasura continued for 10 days and this is why we celebrate the tenth day when Ma Durga killed demon.
Goddess Durga – Why is she worshipped?
On the day of Ashtami, there are many who perform a puja called Kumari Puja where young and unmarried young girls are worshipped. This Kumari Puja is observed in several states of India.
The feet of the young girls are carefully washed and then 'alata' is applied which is a red-colored liquid, before the puja starts. Once the puja is completed, sweets and food are offered to them.
In the evening, the Chamunda form of Ma Durga is worshipped as she earned victory over Mahishasura.
As long as the rituals of the festival are concerned, Navami is considered as the last day. On this day, a grand Aarati is performed and this marks the completion of this great Hindu festival.
On the ninth day, there are even many who perform Ayodhya puja in different Indian states. People, on this day, worship all sorts of instruments and other machines to usher in happiness and prosperity to attain the goals of life.
The last day, the tenth day, is known as Vijaya Dashami and as per beliefs of people, on this day, Goddess Durga returns to the home of her husband. People of the communities make preparations for idol immersion into the River Ganges.
This day is also celebrated as Dussehra where people celebrate the victory of Lord Rama over Ravana. Huge statues of Ravana are burnt on this day and people rejoice by burning fireworks and crackers.
Durga Puja and the special rituals
The festivities and celebrations of the Durga Puja start from Mahalaya when the Goddess' devotees urge Ma Durga to come to earth. This is the day on which the eyes of the idols are made and this special day and ceremony of drawing the eyes is called 'Chokkhu Daan'.
Once the idols of Ma Durga are established, rituals are performed to bring her Divine presence into the idols. This ritual is called 'Pran Pratisthan'.
A small banana plant, called Kola Bou, is taken for bath to a nearby lake. The plant is dressed in a red and white sari and it is believed that this plant carries the holy energy of the Goddess.
During Durga Puja, the devotees pray to Ma Durga and worship her in all her different forms. Once this aarti is done on the eighth day, a religious form of folk dance is performed in front of Ma Durga to honor her.
This is called 'Dhanuchi Naach' where women and men dance to the beats of drum (Dhaak) while holding clay pot that is filled with camphor and burning coconut covers.
Durga Puja is a highly theatrical and communal celebration where cultural performances and dance are a vital part. Bengalis cook traditional foods throughout the five days of Durga Puja.
Streets of Kolkata are filled with shops and food stalls where foreigners and locals enjoy the mouth-watering dishes.