Didn't you often come across small children working in cafes, restaurants or workshops in order to make a living for themselves and their family? What a sorry state they are in when they have to do such odd jobs while it is their time to study and play around with their friends!
Essay On Child Labor – 250 words and 500 words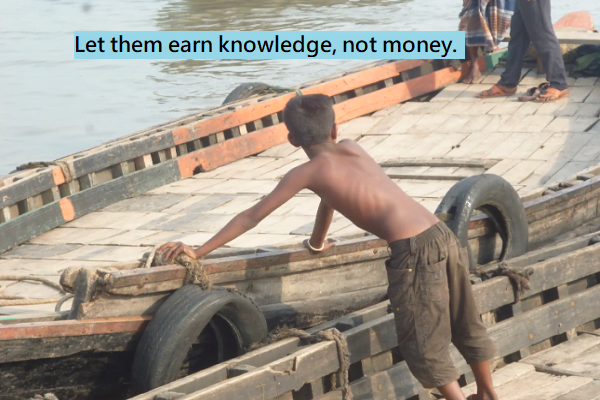 In an ideal situation, children should be at their schools focusing on learning and growing. But how many children in countries like India get the chance to attend schools?
In fact, it is illegal to make a child under the age of 14 years to work for earning a living in India. In order to help children understand what child labour actually is, they have to read essays on it and write on their own. We are here to help you with an essay on the details of child labour. Read on to know more on it.
Child Labour
Child Labour is one such term that you must have often heard in movies or news. This refers to the criminal activity where children are forced to work from a very tender age in order to make a living. Tough activities like working and defending themselves are expected out of children.
Though there are certain policies and laws that have put restrictions on the working of children, yet there are still multiple examples of such things happening in this country.
What is the average age of a child when he becomes appropriate for work? Fifteen years is the average age in most countries. Children that are under this age limit shouldn't be allowed to involve in any kind of work, neither forcibly nor with their consent.
What is the reason behind this? Well, this is because child labour is something that snatches the opportunity of the child to lead a normal childhood which comprise of proper education and development of mental and physical well-being. While there are countries that have made child labour illegal, yet it is not being eradicated completely.
What are the potential causes of the existence of child labour?
Child labour occurs due to multiple reasons. Few of these reasons are common in most countries but there are also some reasons that are specific for particular regions and areas.
It is only when he understand the causes of child labour that we can join together to fight and eradicate it. Let's take a look at the potential causes:
Unemployment & Poverty: The main reasons that cause child labour are unemployment and poverty. When families and households don't earn sufficient amount of money, they put their children to work in spite of the fact that they haven't reached their ideal age of working. At the same time, when the adults of a household are unemployed, they have to look forward to the younger ones to get some work and make money for the family.
Lack of education: Whenever people don't get proper access to education, they tend to force their children to work. The uneducated citizens are only concerned about the short term results and hence they don't understand the long term impacts of practicing child labour.
Money-saving attitude of industries: There is an attitude among different industries that if they hire children, they have to pay them less. This money-saving attitude among the company owners is one of the biggest causes of child labour. The only reason behind hiring children for their work is that they don't have to pay them equally as adults. Children can work more than adults, that too at a very less wage. This is why the companies and industries prefer hiring children.
Indian law and Child Labour
According to the Indian law, children under the age of 1-14 years aren't allowed to work in any kind of job. They can't be forced by their parents or their masters to work in offices, factories and restaurants. This is a common practice in India and other developing countries.
Children are hired to work in domestic services, rock breaking, restaurant water, in construction sites, bookbinding firms and as a representative of a shopkeeper.
While there are different reasons that lead to child labour (as discussed above), few of the grounds of child labour are similar from one country to another. The most famous reasons for child labour are suppression, poverty, improper education, child rights, insufficient laws and rules etc.
Unemployment and poverty in the development of nations are undoubtedly the main causes of child labour. Majority of the villages and rural areas of India have never seen education in any form and due to lack of education, there is increased unemployment. More than 90 million children are far from seeing their school life.
Forbidding child labour – What are the ways?
You have to follow few effective solutions in order to diminish the existence of child labour. The country is suffering under the vices of child labour and slavery. Here are few ways of preventing it.
You have to create more unions for preventing child labour in any form. The unions have to promote and hire more and more people who will speak against child labour.
Parents should give first priority to make their children educated right from a young age. The schools also have to cooperate and make education cheap for such families.
There should be high levels of knowledge on how child labour can wreak havoc to the future lives of the children who are involved in it. People have to spread awareness.
All the households should be able to make their minimum income to not just survive daily but to also prevent their child from going out for work. This will reduce poverty as well as child labour.
Population control can also help you in controlling child labour. When you have 2 children to take care of, you won't require making huge funds. You can also send both of them to schools.
Government and other regulatory authorities should become more stringent about the laws to prevent child labour.
Child Labour is one of the biggest obstacles to a country's success. Children are the future of our country and hence they need to be taken care of.