Digital India is a campaign launched by the Indian government to make sure that the services of the government are available to citizens electronically. For this the online infrastructure has been improved by boosting internet connectivity. Not only that the nation has been digitally empowered with respect to the technology industry.
Digital India Essay In English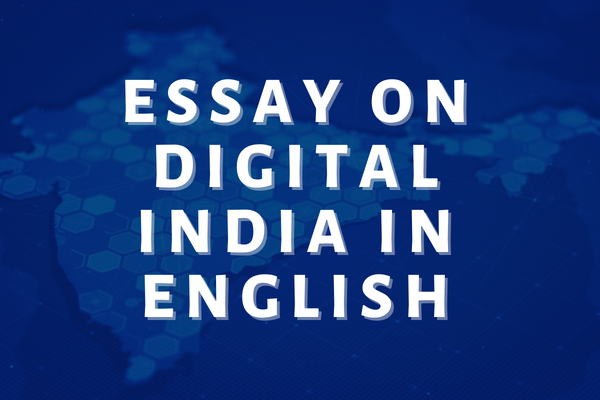 As per the initiative, the government has new plans to connect village areas with internet networks. Digital India comprises of basic 3 things.
Developing a stable and secured digital infrastructure.
All-round digital literacy and.
Delivering proper government services.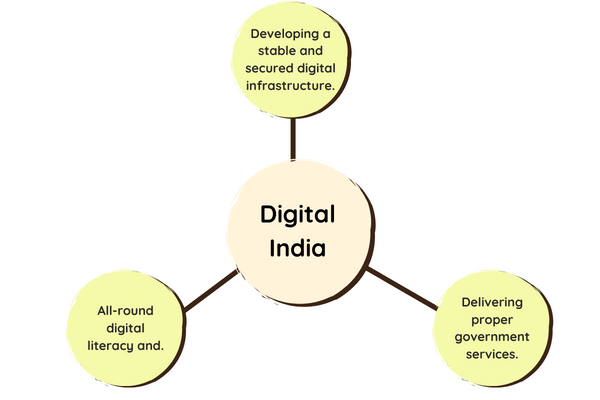 The Digital India campaign was introduced on the 1st of July, 2015 by Narendra Modi, the Indian Prime Minister. This is a beneficiary of other fundamental Indian Government schemes like Make in India, BharatNet, StandupIndia, Startup India, Bharatmala and Sagarmala.
According to the Census of 31st December, 2018, India is a country of 1.3 billion (130 crore people). Not only that, India has 123 crore Aadhaar biometric I-cards, 121 crore mobile phones, 45 crore smartphones and 56 crore internet users. The people enhance technology access through this program all over the nation.
The Indian government has started this program for enhancing internet connectivity among rural and remote areas of the country. One pivotal initiative is to link high-speed internet with the Indian villages. The ultimate motive is to increase the use of electronic services and products.
Digital India – When was it inaugurated?
Digital India was inaugurated amidst the few best industrialists like managing director, RIL chairman, Mukesh Ambani, Azim Premji, Wipro Chairman, Cyrus Mistry, Tata Group and many others.
This was held at the Gandhi Indoor Stadium located in Delhi. This was launched in a meeting that was conducted to share ideas and notions about the increased use of internet and digitization.
The Indian government has taken several steps to improve the country's digital growth. There were several information technology firms that participated in this campaign that covered more than 600 districts.
One lakh crores is the amount that has been invested by the government in launching all these schemes. Few of them are e-health, national scholarship portal, e-education, digital locker and e-sign. All this is run by BBNL or Bharat Broadband Network Limited.
Digital India – Its objectives and goals
There are three main aspects of this campaign, Digital India. It works by following the objectives.
A sturdy and safe digital infrastructure that connects each and every region of India
Easy access to government services that are digitally delivered. This is e-Governance.
Digital literacy of the citizens of India.
The governing community has to be responsible for delivering all sorts of digital services. They can only do this by utilizing trustworthy government apps like e-Pramaan. As per e-Pramaan, the rural public should access and use various online services.
Providing Digital Infrastructure
With the help of digital infrastructure, residents can seek access to government services by using their online identity. Under this initiative, majority of services are there.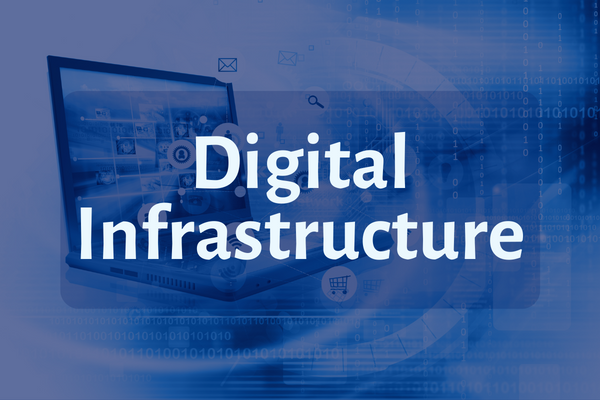 Like for example, signing up various government portals and maintaining digital documents and many more are included in this scheme.
This project also offers access to high speed internet to all rural regions. By accessing the internet, they can gain benefits of most of the projects that are being run by the government. Let's check them out:
Mygov.in: Through this online platform, you can share ideas that are linked to the administrative plan of the government. This project has been introduced mainly for the residents so that they could participate in it.
Digital Attendance: This is one more initiative by the Indian government whereby the attendance of the government employees can be tracked digitally. This project was introduced in Delhi and it leverages the biometric system to trace attendance.
UMANG (Unified Mobile Application for New-Age Governance): This is a smartphone platform that works on any smartphone. You can use this app in several Indian languages. Through this app, people get the power to access an array of services. Services range from digital locker, education portals, tax, Aadhar and booking of railway tickets.
e-Sign: Through this application, the registered users and sign a document digitally. They can sign the document by using their Aadhar card as an authentication proof.
e-Hospital: Through this application, you can access all sorts of hospital and medical services. The list may include booking appointments, online lab reports, and payment gateways and so on.
Digi-Locker: Thanks to the digi-locker that you are allowed to keep all your government papers safe digitally. This is a cross-platform app that can work on several units of administration. As all the documents are verified by the Indian government, residents don't have to carry any hard copy.
Digital Literacy: This is a huge step taken by the government of India to let the rural people of India use the internet for enhancing their quality of life. Until 2015, most rural people couldn't access the internet. But now they can.
The Prime Minister of India, Narendra Modi has even thought of imparting literacy to all rural houses digitally. The Digital India campaign is a mammoth project of 2,351.38 crores and it covers more than 6 crore houses. It is executed by Pradhan Mantri Gramin Digital Saksharta Abhiyan (PMG Disha).
The government of India also has a plan of introducing platforms for digital payment that are famous among business firms.
With this, several businesses will find it easier to start off their business on online platforms. Businessmen can run their business from different regions of the country when they take resort to digital platforms.
It can be safely concluded by saying that a digitally connected India will lead to the growth of the economic and social status of the country. With the development of non-agricultural economic activities, you can achieve this.
However, it is also true that the ICT can't impact the overall development of the nation directly as it also needs a basic and fundamental infrastructure. This can also be achieved through literacy, a business environment, regulatory proceedings and literacy.
Benefits of Digital India
Digital India makes health care and literacy more accessible since people may use a hospital service to receive online registration, a doctor's appointment, payment of the charge, a blood test, a diagnostic test & among other things.
It allows customers to submit their all paperwork and certifications online from anywhere, reducing the amount of physical work required.
All Citizens can digitally sign their records online to sign the framework.
Digital India benefits the beneficiaries of the National Scholarship Portal by allowing them to submit their applications, have them verified & then be paid or disbursed.
BSNL's next-generation network will replace 30-year-old telephone exchanges for improved administration of online services on mobile devices like data, voice, multimedia & etc.
Flexible electronics will be promoted with support of the National Center for Flexible Electronics.
As all transactions are completed through digital method, it also aids in the reduction of black marketing.